The fourth edition of our weekly series of Think Pieces continues today with a recently published report by The University of Liverpool's Heseltine Institute for Public Policy, Practice and Place entitled 'National' Spatial Strategies in an Age of Inequality: Insights from the United Kingdom, Ireland & France. The report features a foreword written by the Chair of the UK2070 Commission, Lord Kerslake, and each of the seven chapters are variously written by ten academics, including UK2070 Commissoners Professors Ian Wray and Vincent Goodstadt. Together they bring into conversation the national spatial strategies currently being pursued in Wales, France, Northern Ireland, Scotland, and the Republic of Ireland so as to extract lessons for England – which presently has a lack of consequential national spatial strategising.
The report seeks to ask: what spatial strategies exist in these jurisdictions? What have been their recent histories? What is the current status of spatial strategising? What kinds of politics surround plan-making and implementation? Who owns plans? Who funds plans? How are plans governed? What works and what does not?
The seven chapters of the report are authored as follows, and can be read in full on the following link: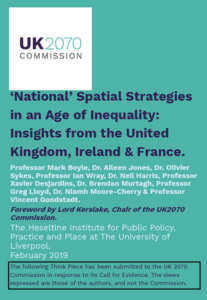 Foreword
Lord Kerslake, Chair of the UK2070 Commission.
1) Introducing 'National' Spatial Strategies In An Age Of Inequality: Insights From The United Kingdom, Ireland And France
Professor Mark Boyle, University of Liverpool; Dr. Aileen Jones, Liverpool City-Region Combined Authority; Dr. Olivier Sykes, University of Liverpool; and Professor Ian Wray, University of Liverpool.
2) The Evolution Of National-Level Planning In Wales: A Retrenchment From Spatial Planning To Land-Use Planning
Dr. Neil Harris, Cardiff University.
3) National Spatial Planning In France: From Nostalgia To Reinvention?
Professor Xavier Desjardins, Sorbonne Université.
4) The Regional Development Strategy Northern Ireland, Inequality And Balanced Development
Dr. Brendan Murtagh, Queen's University Belfast.
5) National Strategic Planning In Scotland: Past, Present And Future
Professor Greg Lloyd, Ulster University and Wageningen University.
6) Project Ireland 2040: Business As Usual Or A New Dawn?
Dr. Niamh Moore-Cherry, University College Dublin.
7) A New Agenda For England and The UK: The Missing Pieces In The Jigsaw
Professor Vincent Goodstadt, Common Futures Network and University of Manchester.