Our weekly series of Think Pieces continues today with a report published by Structural Transformation, Adaptability and City Economic Evolutions and cityevolutions.org.uk entitled The Economic Performance of Britain's Cities: Patterns, Processes and Policy Implications. Written by seven academics at five universities, the report seeks to analyse the economic evolution of Britain's cities since 1971 by considering their Travel To Work Areas (TTWAs) to construct an annual data series on employment, output, labour productivity, skills and wages for 85 cities in the United Kingdom. This unique dataset was then used to consider how cities have differed in their growth patterns since 1971; how they have adapted to the major shifts in the structure of the UK's national economy; what impact four major recessions have had on British cities; and lastly to establish the extent to which the UK's 'productivity problem' is itself a problem with a city dimension.
To read City Evolutions' report in full, please click here.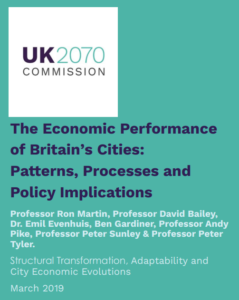 Professor Ron Martin is Professor of Economic Geography at the University of Cambridge; Research Associate of the Centre for Business Research at the Judge Business School; and is a Professorial Fellowship at St Catharine's College.
Professor David Bailey, is an expert on economic restructuring and industrial policy, but is perhaps best known for his knowledge of the British and West Midlands car manufacturing. He sits as Professor of Industrial Strategy at Aston Business School.
Dr. Emil Evenhuis is Research Fellow in Economic Geography at The University of Southampton. His research is focused on how cities and regions cope with economic change, and in particular on the role of institutions and policies in facilitating this.
Ben Gardiner is director of the Regions, Cities and Local Areas team at Cambridge Econometrics, having previously worked for the European Commission's Joint Research Centre Directorate-General.
Professor Andy Pike is the Sir Henry Daysh Chair of Regional Development Studies at Newcastle University. His central research interest is the geographical political economy of local, regional and urban development, governance and policy.
Professor Peter Sunley is Professor of Economic Geography at the University of Southampton. His research is focused on regional development and growth; venture capital and firm finance; the innovation and creative industries and the geographies of labour and welfare policy.
Professor Peter Tyler sits as Professor of Urban and Regional Economics at the University of Cambridge and President and Fellow of St. Catharine's College. He has served as a Project Director for over seventy major research projects for the UK Government.